New Associate Attorneys Join Pentecost, Glenn, & Tilly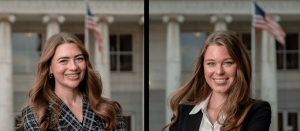 Pentecost, Glenn, & Tilly is excited to announce that Ansley McLellan and Haley Klima have joined the firm.
Ansley, an Owensboro, Kentucky native, graduated from the University of Kentucky in 2020 with a B.B.A. in Management and a minor in Journalism. She then attended law school The University of Mississippi School of Law where she graduated magna cum laude in 2023. While at The University of Mississippi School of Law, Ansley served as an Executive Articles Editor for the Mississippi Law Journal, Vol. 92.
Haley, originally from Port Clinton, Ohio, earned her B.S. in Entertainment Industries from the University of North Alabama in 2019. She then attended the University of Mississippi School of Law and graduated in 2023. During her time at the University of Mississippi, she was Senior Editor of Notes and Articles for the Mississippi Sports Law Review. She was also the student coordinator for the Pro Bono Initiative and President of the Law Association for Women, as well as the Entertainment and Sports Law Society. Haley completed a low-income tax summer fellowship with Equal Justice Works in 2022.
Both Ansley and Haley were sworn in by Justice Roger Page of the Tennessee Supreme Court on November 14, 2023. Please join us in congratulating and welcoming Ansley and Haley to the firm!